It's official.
Florida Gov. Ron DeSantis is now a candidate in the 2024 presidential election.
After months of speculation, and what many pundits called a 'shadow campaign,' DeSantis officially declared his presidential candidacy Wednesday.
DeSantis filed his FEC paperwork to declare his candidacy.
BREAKING: Florida Gov. Ron DeSantis has officially filed FEC paperwork to run for president in 2024.https://t.co/cWEZhT3Gls pic.twitter.com/gGlVvJotCk

— DailyNoah.com (@DailyNoahNews) May 24, 2023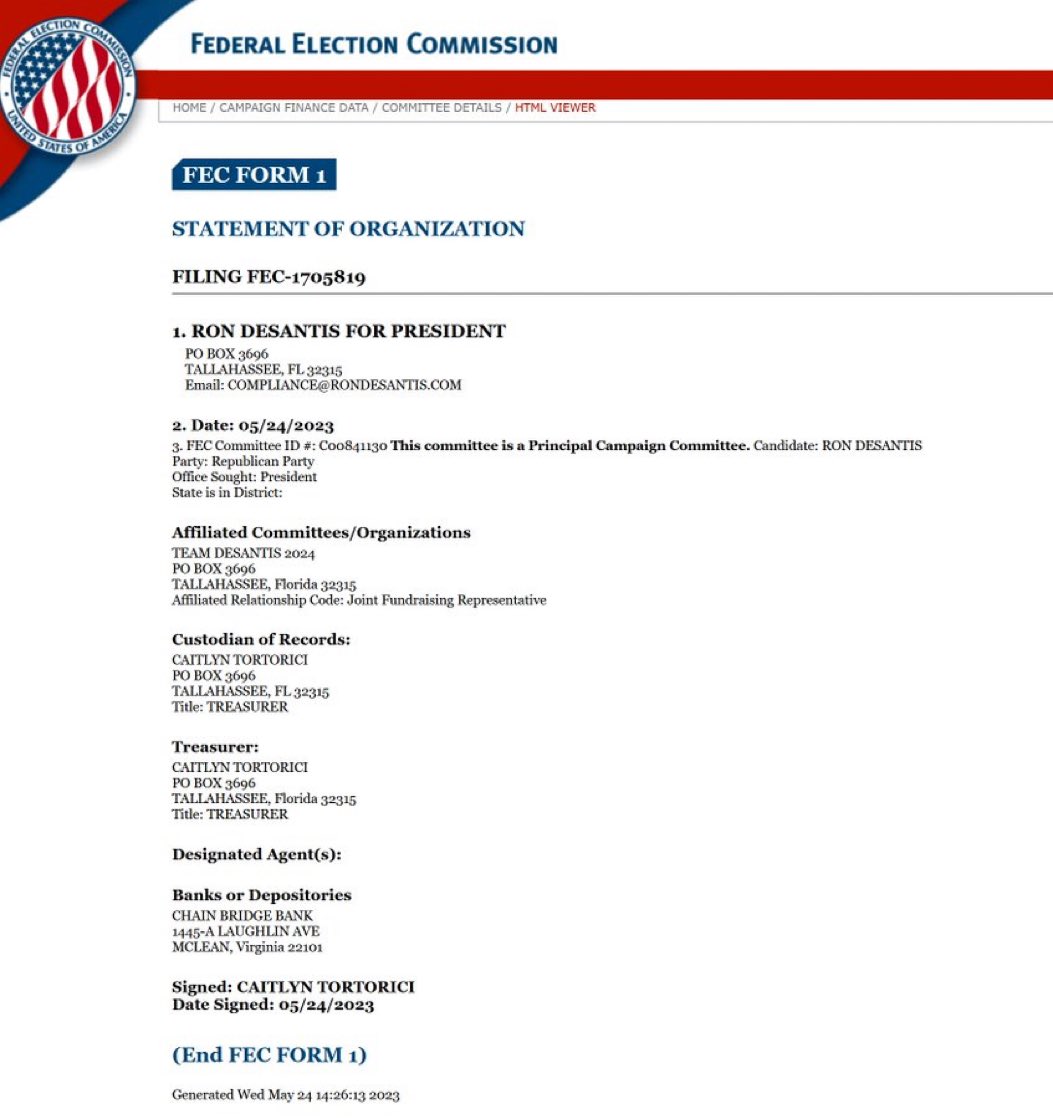 The Florida governor will launch his official campaign in a Twitter Space conversation with Elon Musk Wednesday evening.
According to investigative journalist Laura Loomer, internet technology investor and former PayPal executive David Sacks will 'moderate' the Twitter Space conversation.
Loomer reports that Sacks hosted a fundraiser for DeSantis in 2021.
I noticed that Big Tech investor @DavidSacks is set to "moderate" your Twitter space with @GovRonDeSantis tomorrow at 6 pm EST in which he's announcing his 2024 run for President.

Can you please explain how this is an impartial moderator when David Sacks hosted a… pic.twitter.com/CqrdYsiWme

— Laura Loomer (@LauraLoomer) May 24, 2023
From SFGATE:
Florida Gov. Ron DeSantis, who has become a 2024 Republican Party presidential front-runner thanks to his hands-off approach to handling the COVID-19 pandemic, is set to visit San Francisco — arguably the nation's most restrictive city during the pandemic — for a fundraiser this month.

The Oct. 22 fundraiser is hosted by former PayPal executive David Sacks, who tweeted of the event, "It will be fun night." Tickets to attend the cocktail reception cost $2,500, and photo opportunities with the governor cost $7,000. Dinner with DeSantis is set to cost a whopping $25,000.

Sacks, who now leads a venture capital firm, has donated to both Democrats and Republicans over the past 10 years. FEC records indicate that Sacks donated more than $50,000 to Mitt Romney's presidential campaign in 2012, then gave nearly $40,000 to Hillary Clinton in 2016. In the 2018 midterms, he gave $10,000 to the Democratic Party, then sat out the 2020 general election. Once the general election was over, he gave $11,200 to WinRed, the Republican Party fundraising arm backing Kelly Loeffler and David Perdue in the Georgia Senate runoffs.
DeSantis has already assembled his 2024 campaign team.
His campaign team includes:
Generra Peck: Campaign expert who helped DeSantis defeat challenger Charlie Crist in November elections.
David Abrams: The former communications director for New Hampshire Governor Chris Sununu and Chris Christie's failed 2016 presidential run, will serve as campaign messenger
Dustin Carmack:  will serve as DeSantis policy director, he formerly worked as DeSantis chief of staff and as chief of staff for the director of national intelligence during the Trump admin.
Lauren Lifstrom,"handled finances for Cruz's 2016 campaign, will oversee the books for DeSantis' DC push."
Bryan Griffin, "known for spirited social media tussles with reporters as DeSantis' gubernatorial press secretary, will step into the same role for the presidential campaign."
Carl Seusa, "who established the WinRed digital fundraising platform that piled up more than $1 billion for GOP candidates in 2020, will serve as chief technology officer."
Read the full list:
The latest polls indicate DeSantis has much ground to gain on GOP frontrunner Donald Trump.
A 2024 National Republican Primary poll from Quinnipiac had Trump leading at 56%.
DeSantis was second in the poll at 25%.
2024 National Republican Primary

Trump — 56% (+9 from March)
DeSantis — 25% (-8)
Haley — 3%
Pence — 2%
T. Scott — 2%
Christie — 2%
Ramaswamy — 1%
Elder — 1%
Sununu — 1%

2 Way:
Trump — 61% (+9)
DeSantis — 32% (-10)

Quinnipiac (A-) | 699 RV | 05/18-22https://t.co/R748rRFD0G pic.twitter.com/W41vnGET6U

— InteractivePolls (@IAPolls2022) May 24, 2023