Peter Meijer, a former Republican Congressman from Michigan, announced Monday he will run for the state's open U.S. Senate seat.
"Today, former West Michigan Congressman and Iraq War veteran Peter Meijer announces his run for the United States Senate in the 2024 Republican Primary to replace retiring Senator Debbie Stabenow," Meijer said in a press release.
I am excited to join the race for the United States Senate! pic.twitter.com/qf2CnCUQNk

— Peter Meijer (@VoteMeijer) November 6, 2023
Read the full press release: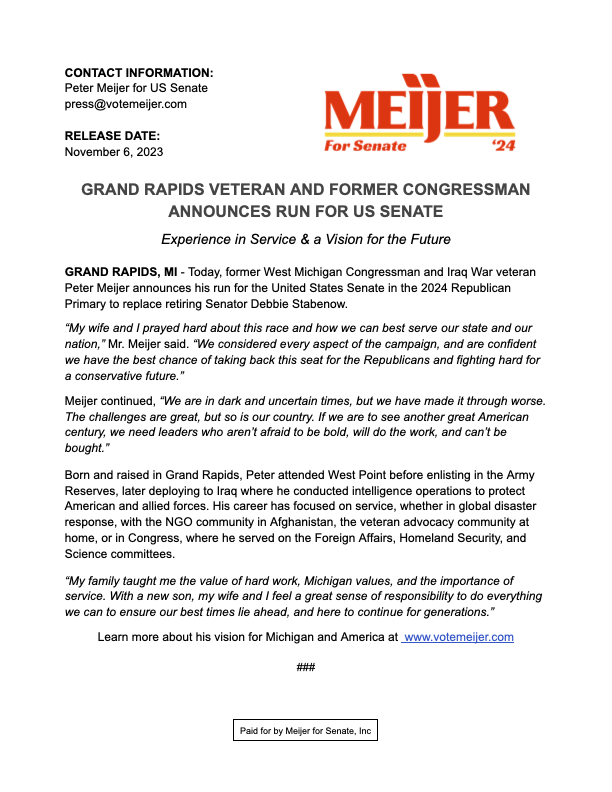 Democrat Senator Debbie Stabenow announced her retirement after holding the seat for more than 20 years.
Stabenow's unexpected retirement has made Michigan's open seat one of the country's most fiercely contested U.S. Senate races.
Meijer is unlikely to make it out of the Republican primary.
He's one of 10 House Republicans who voted for Donald Trump's impeachment after January 6th.
Former Rep. Peter Meijer is running for the Republican nomination for Michigan's open Senate seat. He was one of 10 House Republicans who voted to impeach Trump after Jan. 6.

— Axios (@axios) November 6, 2023
Axios reports:
Speculation that the West Michigan Republican would enter the race has picked up in the weeks after Meijer formed an exploratory committee for a campaign.

Meijer was one of 10 House Republicans who voted to impeach then-president Donald Trump in 2021 after the Jan. 6 Capitol riot.

The action likely cost him his seat. Democrats boosted his far-right challenger in the Republican primary race, who eventually lost to Democrat Hillary Scholten in the general election.
The Michigan Republican failed to make it out of the GOP primary in the 2022 midterm elections.
Pro-Impeachment Rep. Peter Meijer Loses To Trump-Endorsed Primary Challenger John Gibbshttps://t.co/9yXg62z8DU

— Daily Caller (@DailyCaller) August 3, 2022
From POLITICO:
John Gibbs, an official in former President Donald Trump's administration, has ousted incumbent GOP Rep. Peter Meijer in a primary — the first election since Meijer voted to impeach Trump last year.

Meijer, a freshman, voted to charge the then-president over his role in the Jan. 6 attack on the Capitol in one of his first acts as a member of Congress in 2021. Gibbs worked in the U.S. Department of Housing and Urban Development under then-Secretary Ben Carson and has parroted Trump's conspiracy theories about the 2020 election results.

Meijer released a statement early Wednesday morning announcing he had conceded to Gibbs.

Meijer is the second Republican who voted to impeach Trump to lose a primary this year after Rep. Tom Rice (R-S.C.). Another four out of the group of 10 retired rather than run for reelection, and one — Rep. David Valadao (R-Calif.) — advanced to the general election out of an all-party primary in June. Meanwhile, GOP Reps. Jaime Herrera Beutler and Dan Newhouse of Washington State are currently locked in tight primaries, and Rep. Liz Cheney (R-Wyo.) faces primary voters on Aug. 16.

Democrats have closely followed Meijer's race in Michigan, as the 3rd District transformed in redistricting from a narrowly pro-Trump seat in the 2020 election to one that President Joe Biden would have carried by 9 points, according to POLITICO's redistricting tracker.
13 On Your Side aired this video report: