U.S. law enforcement officials Monday announced the arrests of two New York residents who allegedly operated a Chinese "secret police station" in Manhattan's Chinatown.
The FBI Washington Field Office, in conjunction with the FBI New York Field Office and U.S. Attorney's Office for the Eastern District of New York, announced earlier Monday a press conference to announce "arrests and charges in a significant national security matter."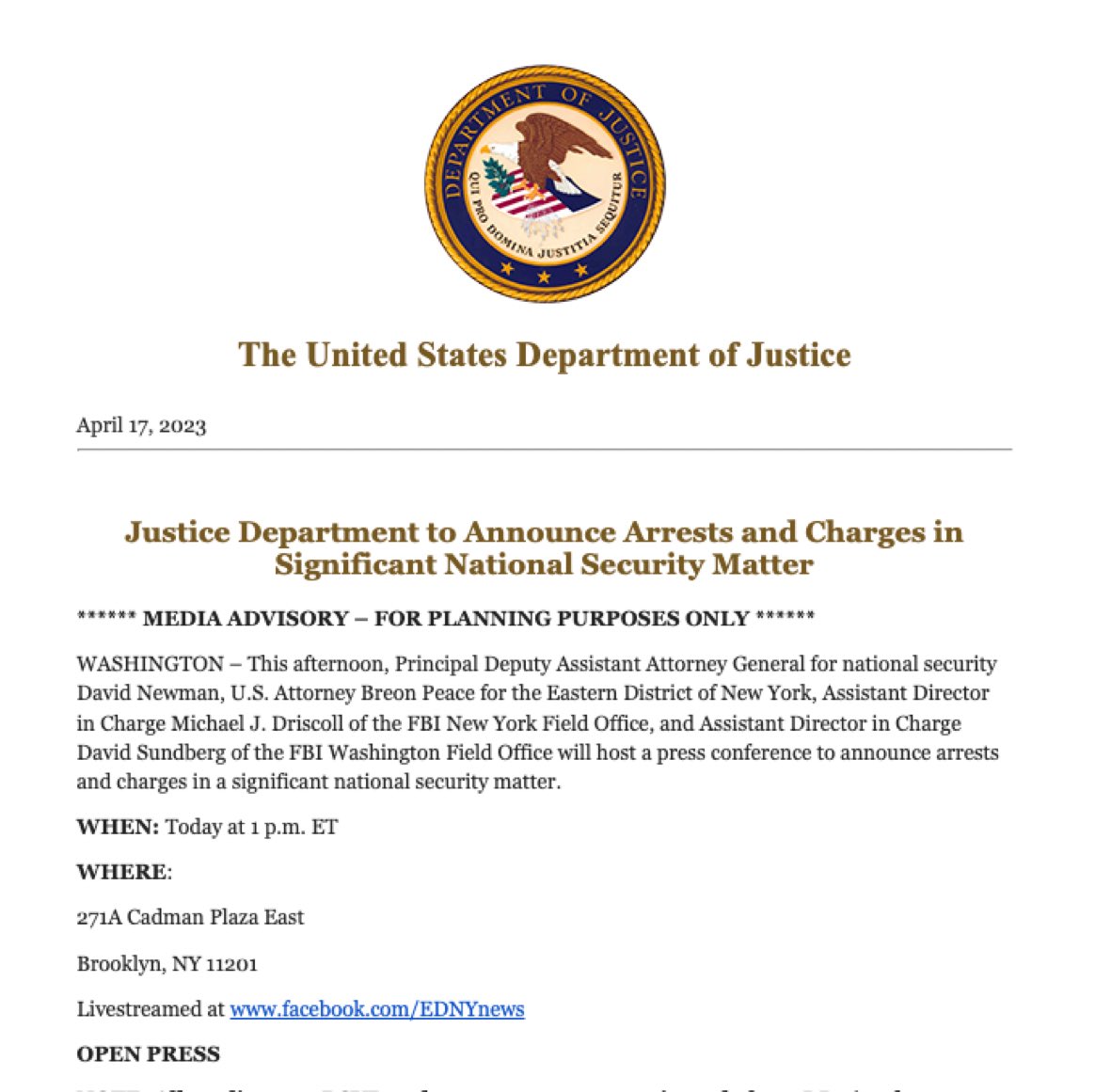 Today at 1pm EST, EDNY will be hosting a press conference with @DOJNatSec @NewYorkFBI and @FBIWFO to announce arrests and charges in 3 significant national security matters.

The conference will be livestreamed on EDNY's Facebook page: https://t.co/1tNC8eW6ij

— US Attorney EDNY (@EDNYnews) April 17, 2023
UPDATES – FBI arrests two New York residents on charges of operating Chinese police stations in Manhattanhttps://t.co/rFluT83Pqd

— Insider Paper (@TheInsiderPaper) April 17, 2023
Reuters reported:
Liu Jianwang, 61, and Chen Jinping, 59, face charges of conspiring to act as an agent of China's government without informing U.S. authorities, and obstruction of justice, prosecutors said. They are expected to appear in federal court in Brooklyn federal court later on Monday.

"This prosecution reveals the Chinese government's flagrant violation of our nation's sovereignty by establishing a secret police station in the middle of New York City," Breon Peace, the top federal prosecutor in Brooklyn, said in a statement.

Prosecutors said Lu in 2018 sought to persuade an individual considered a fugitive by China to return home, prosecutors said. That individual reported being harassed and threatened, prosecutors said.

China's government in 2022 asked Lu to help locate an individual living in California considered a pro-democracy activist, prosecutors said.
Insider Paper provided further details about the suspects:
It is not clear if either of the men have legal representation at the moment. Lu Jian Wang, who is also known as Harry Lu, resides in the Bronx and is a naturalized citizen of the United States. Chen Jin Ping, on the other hand, lives in Manhattan, but his citizenship status has yet to be confirmed.

According to IRS documents filed in 2018, Lu was identified as the president of a non-profit organization named America Changle Association NY, which operated out of the same building where the illegal police outpost was located. However, the relationship between Chen and the group is currently unknown.

The Chinese Embassy in Washington attempted to downplay the significance of the outposts when news of the search was first reported in January, according to the NY Times. The embassy claimed that they were run by volunteers who assisted Chinese nationals with routine tasks such as renewing their driver's licenses in their home country.

Breon Peace, U.S. Attorney for the Eastern District of New York, said, "China's Ministry of Public Security has repeatedly and flagrantly violated our nation's sovereignty, including by opening and operating a police station in the middle of New York City."

"Two miles from our office just across the Brooklyn Bridge, this nondescript office building in the heart of bustling Chinatown in Lower Manhattan, has a dark secret. Until several months ago, an entire floor of this building hosted an undeclared police station of the Chinese National Police," Peace added.

"Now, just imagine the NYPD opening an undeclared secret police station in Beijing. It would be unthinkable.
UPDATE – "The two defendants whose arrests we're announcing today destroyed evidence of their communications with the Chinese national police when they learned of the FBI's investigation," Peace says in the press conf.

— Insider Paper (@TheInsiderPaper) April 17, 2023
Badlands Media provided full coverage of the press conference on its Rumble channel: