WARNING: before you prejudge this article, read the entire thing.  After you've done so, I'd love to hear what you think in the comments!
So a couple days ago, I brought you a deep dive on Matthew Perry's death and all of the extremely strange things suddenly posted to his Instagram.
But today I saw a Twitter thread that I have to admit went even deeper and did an even better job than I had done (although there are a few things I picked up on that they didn't, so you should read both together — I'll repost mine at the bottom).
The thread comes from TommyGReturns2 on Twitter and I'm going to give it to you in full….
Here we go!
1/🧵#MatthewPerry CONSPIRACY PART 1

🦇THE ONE WITH THE IG COMMS🦇

PROOF PERRY DID NOT DIE OF A RANDOM HEART ATTACK & IT WAS EITHER SU!CIDE OR MURDER!

PART 1:
WHO, WHAT, WHEN, WHERE, WHY & HOW HE KNEW HE WAS DYING!

PART 2: (coming soon)
THE DARK SATANIC/MURDER/SACRIFICE 🧵 pic.twitter.com/JcFWKfSfQg

— Tommy G (@Tommygreturns2) November 2, 2023
1/🧵#MatthewPerry CONSPIRACY PART 1
🦇THE ONE WITH THE IG COMMS🦇
PROOF PERRY DID NOT DIE OF A RANDOM HEART ATTACK & IT WAS EITHER SU!CIDE OR MURDER!
PART 1:
WHO, WHAT, WHEN, WHERE, WHY & HOW HE KNEW HE WAS DYING!
PART 2: (coming soon)
THE DARK SATANIC/MURDER/SACRIFICE 🧵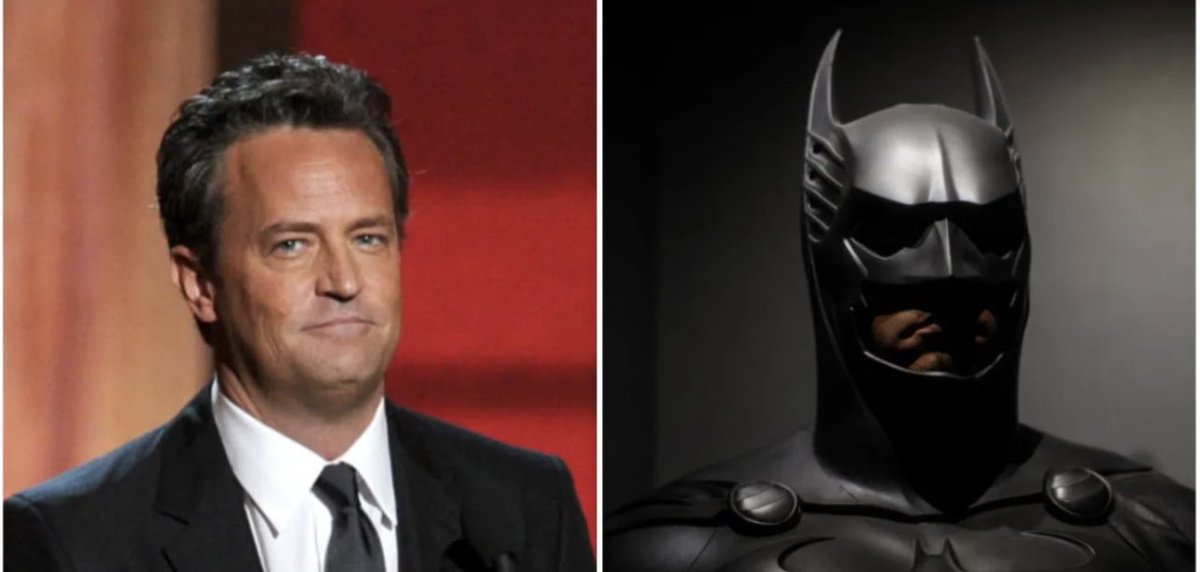 2/

reports are that Matthew Perry died on 10/28/23 of a "random heart attack" "then drowned" & NO FOUL PLAY WAS INVOLVED!
BULLSHIT!
This was 100% either a suicide or murder depending on what you believe, but it was DEFINITELY NOT RANDOM!
U can see day 1 I wasn't buying it 👇
3/

Let's start with the stuff the sheep will use to debunk this:
YES, Perry had a known BAD drug problem years ago
YES, Perry was 54 years old
YES, Perry has not looked right for years
YES, It is possible to drown in 3 feet of water if you pass out.
Ok, now let's get to work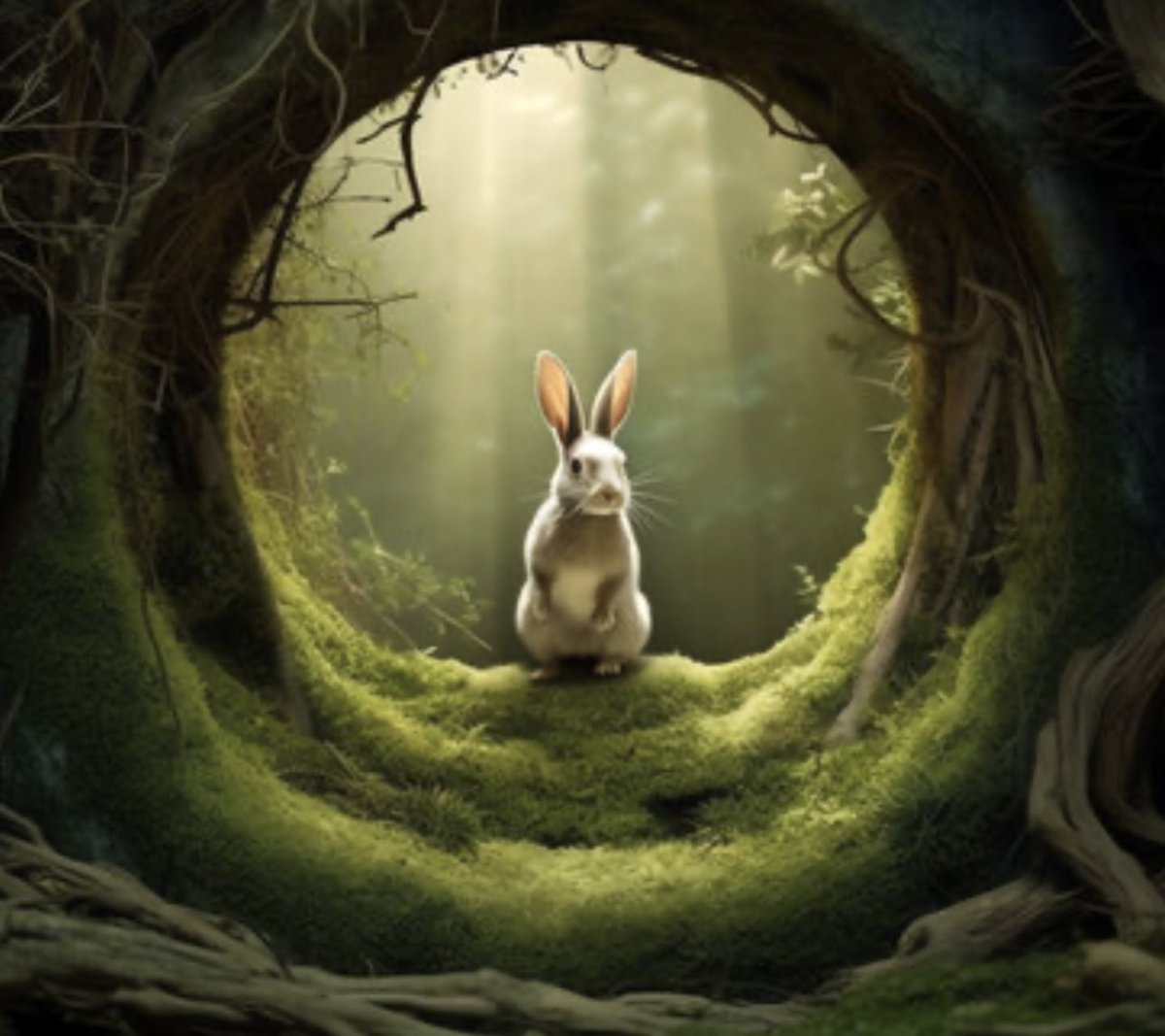 4/

The 1st thing that needs to be pointed out (which a lot of you have seen) is the INSANELY ERRATIC nature of his Instagram days before he died!
It went from a "LinkedIn resume page"
to a batshit crazy cry for help OVERNIGHT!
Here's the theme of his page for the last 12 mos.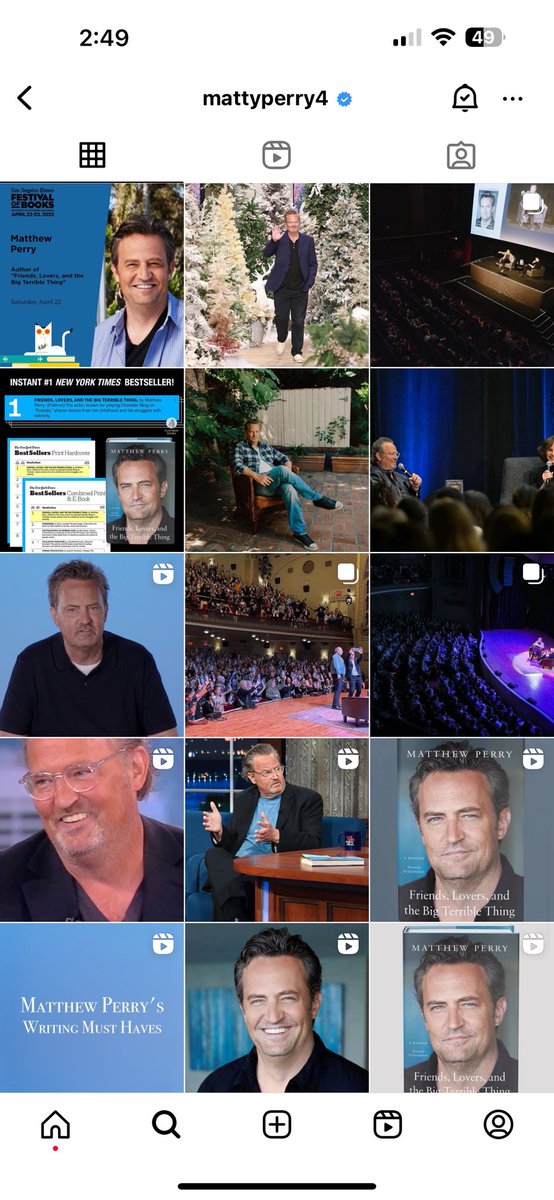 5/

YES, that's ALL the posts from Oct 11th 2023 to Oct 22nd 2022 (minus one pic of his backyard)
So he posted 15Xs in 376 days (once every 25 days) & EVERY post was the most professional sh!t you've ever seen…
THEN THIS HAPPENED!!!
(And the dad pic is important for PART 2 🧵)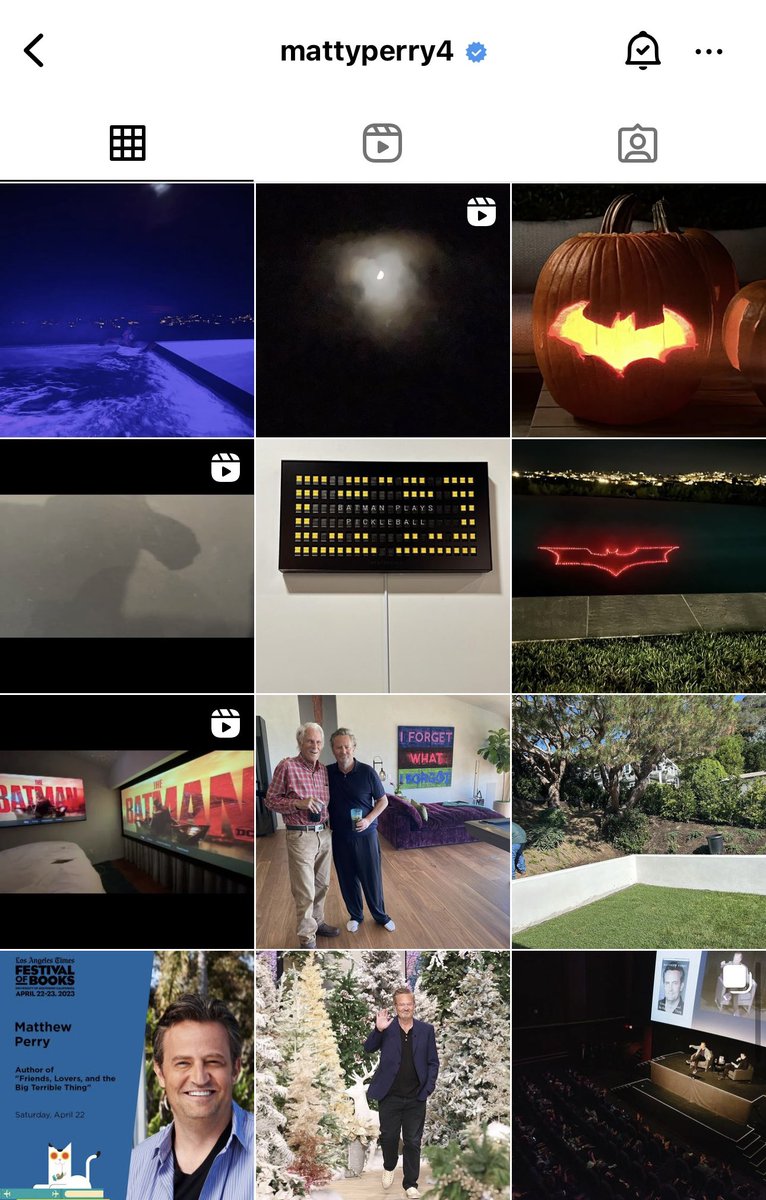 6/

NOW, I know he was a huge Batman fan, that doesn't debunk this, cause he was also a huge fan for last 3 yrs prior when he posted NONE OF THIS SHIT!
Not to mention he posted 30 times in 3 yrs & now goes on a "BATSHIT" post storm w/ 8 posts in 13 days ending w/ where he died😳
7/

Let's break these down 1 by 1 & skip the dad post which I'll circle back to in PART 2
10/17: Posts a creepy Batman video on his IG ending w/ the batsignal in the corner!
This did NOT fit his normal post pattern, but maybe he just felt frisky
In retrospect it was the 1st 🚩
8/

When did citizens post THE BAT SIGNAL?
When they were in danger!
And in his interview w/ Diane Sawyer
WHICH WAS EXACTLY 1 YR BEFORE HIS DEATH🤔
when asked "How will we know when you're in trouble"
He said
"if I am chilling alone at home"
Batsignal + alone at home= 🚩
9/

I also thought of something else…
Why "The Batman" movie? Which was not one of the better ones…
Because "THE BATMAN" is the darkest of them all & the villain is…
You guessed it…
THE RIDDLER!
And the Riddler posted his cryptic riddles in this movie on…
SOCIAL MEDIA!
10/

Before we proceed forward and u sheep cry that it is inappropriate to dig into his death…
Understand that in my opinion Perry WANTED us to dig into this & that is why he dropped all the comms u are about to see!
We are not disrespecting his legacy, we are aiding it!
11/

WHO: ME! HELP!
10/19 he AGAIN posts the bat signal (help) & declares himself Mattman
The "last chapter" of his memoir is titled "Batman", & he calls himself Mattman.
He's implying this is his final chapter.
(He also sent his maid on an errand & died while she was out 🤔)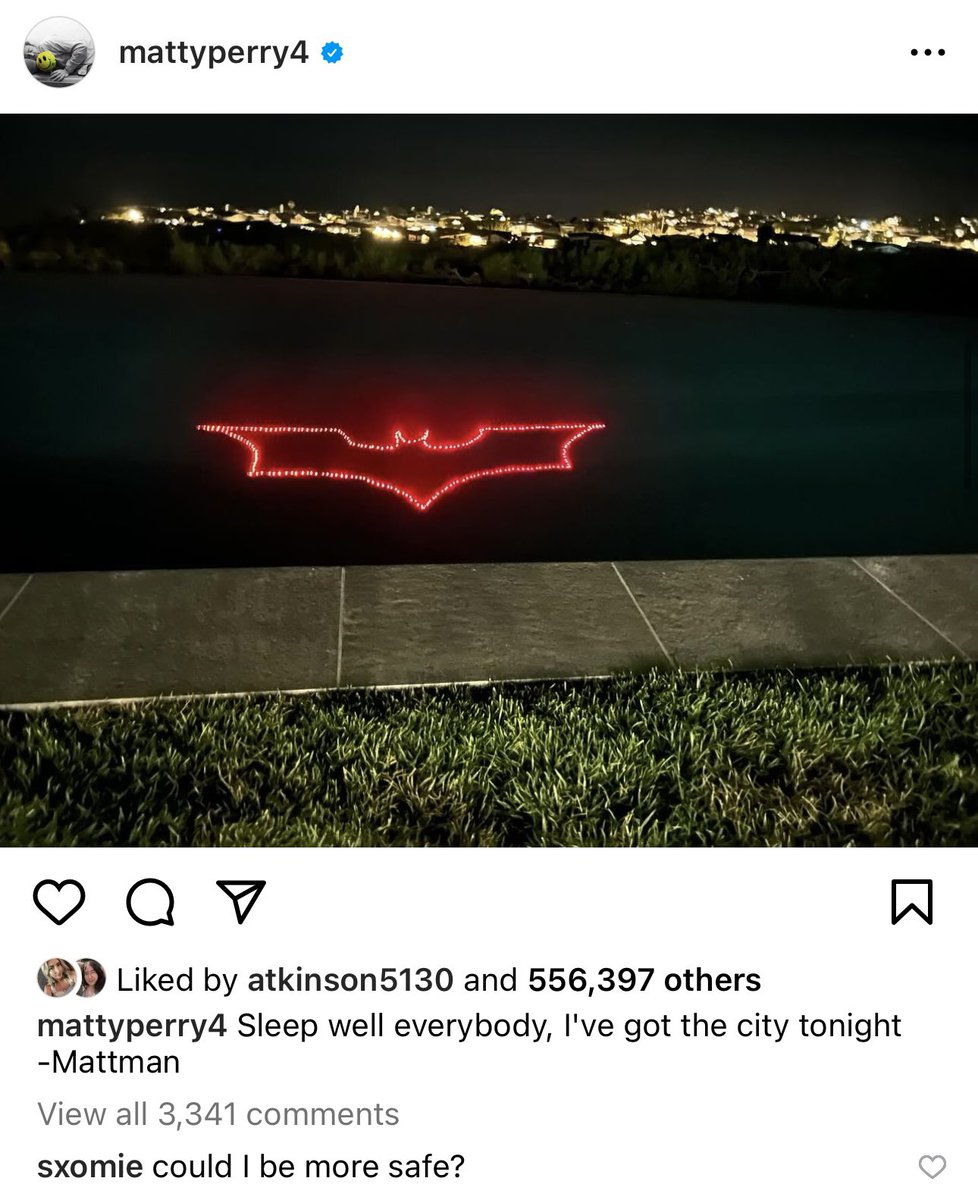 12/

10/21: This is where it starts to get f*cked up
Batman & Pickleball don't correlate AT ALL, so this is a comm!
He even captions it "WTF"
Then 7 days later he dies…
RIGHT AFTER A PICKLEBALL GAME🤔
Now it makes sense, he was telling us WHAT he would be doing before it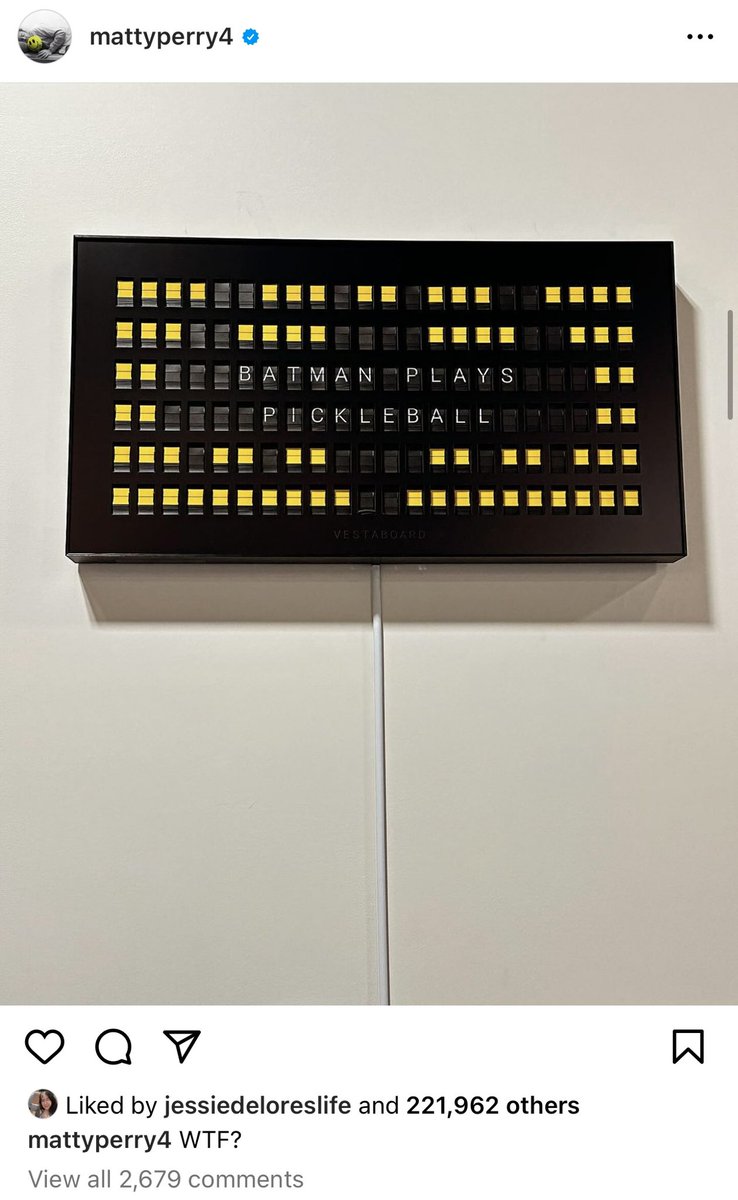 13/
WHO: ME!
WHAT: Pickleball
10/22 he actually tells us HOW he is gunna die 😳
BUCKLE THE F*CK UP!
He posts a video of 3 cranberries, which I saw & said
"THIS VIDEO IS THE KEY TO EVERYTHING"
And it was….
Some of u have seen this, but it gets deeper than just the band
14/

Again, some of you may have seen this on the interwebs…
Remember the band "The Cranberries"?
The lead singer, Dolores O'riordan, had a very strange death…
Wanna guess how she died?
Yup, DROWNED in 2 feet of water in a tub!
So the Cranberries is the HOW he will die.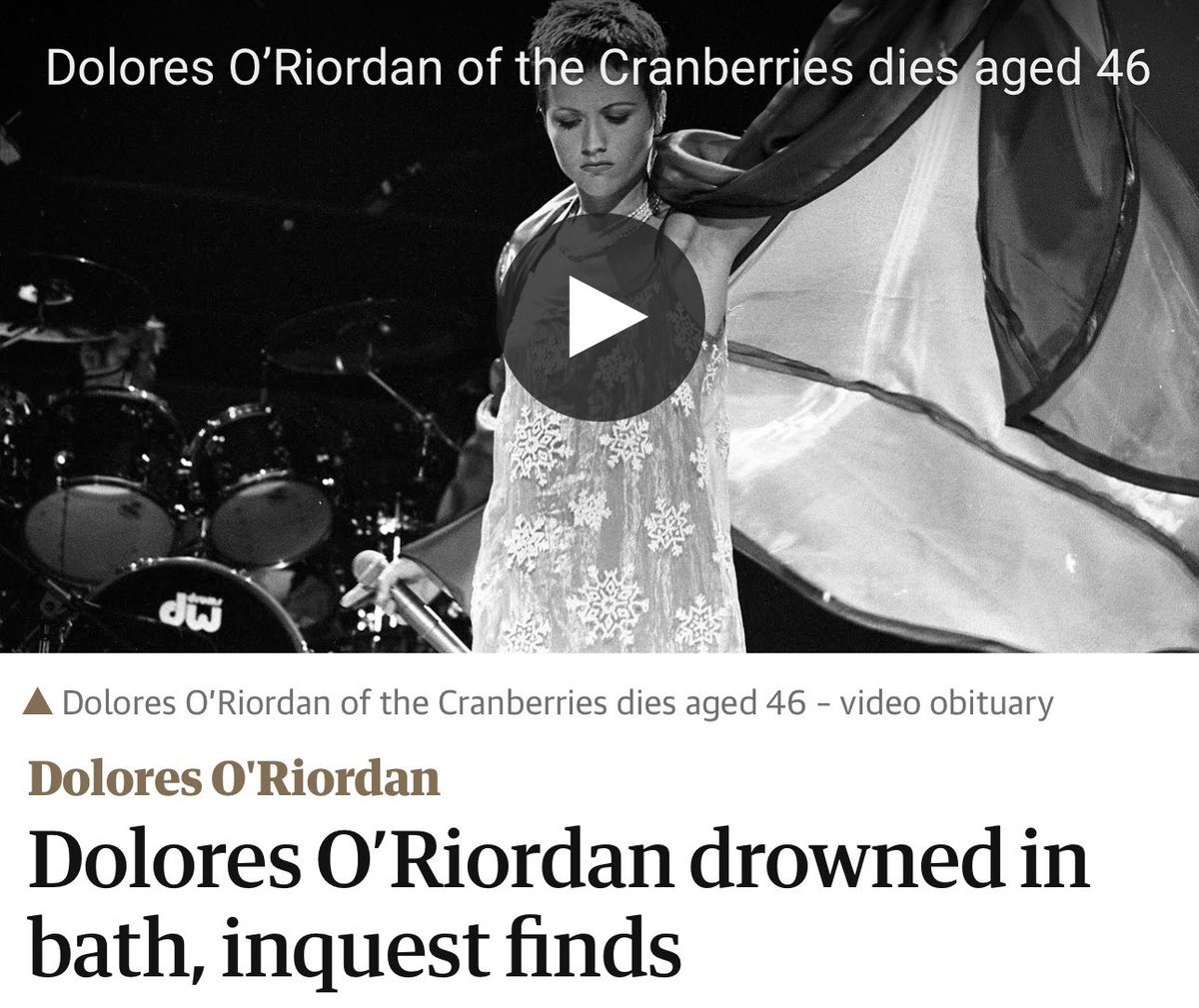 15/
IT GETS CRAZIER!!!
I always go to urban dictionary when decoding…and this one came up roses!
Here's the f*ckin definition of "cranberrying" in Urban Dictionary!
It's when fans & "FRIENDS" love u more after death😳
16/

This is crazy cause
1 "FRIENDS" is emphasized in it
2 Cranberries are drowned in water
3 He was quoted A MILLION TIMES saying it was not fair & that he felt ignored & left out from his cast mates!
AND NOW EVERYONE IS "CRANBERRYING" OVER HIM!
Here's his LAST SEEN WORDS
17/

So we have:
WHO: ME!
WHAT: Pickleball
HOW: Drowning
WHY: Attention/Legacy
His motive was to "go out w/ a bang" & leave a legacy*EXACTLY LIKE THE RIDDLER DID* after his death cause he never felt appreciated during his life
Another example of frustration during the reunion👇
18/

For my hardcore conspiracy fans, I know we are talking a lot about why this was a suic!de and NOT about why I think he was murdered and knew it was coming…
But we get there in PART 2!
Let's debunk the random heart attack first for the normies, then I'll feed u baby birds!
19/
10/22 He posts a picture of a pumpkin w/ the Batman logo.
We already have the WHO, WHAT, HOW & a potential WHY (there's more to this "WHY" in PART 2)
And here's the WHEN!
HALLOWEEN!
captioned: "Do u know what I mean?"
(He's wondering if we've decoded his codes yet)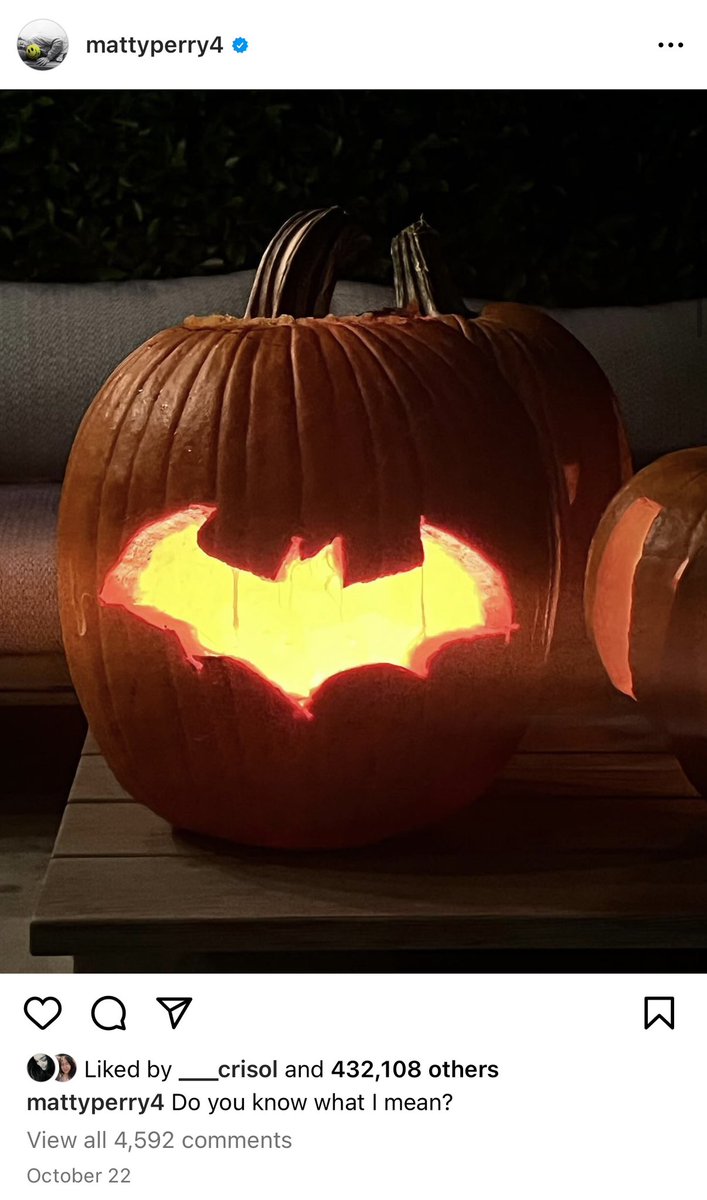 20/

The: "DO U KNOW WHAT I MEAN???" Makes it apparent he's dropping comms.
he's either signaling to everyone b4 his suicide, or he knows his time is up from selling his soul & they are coming for him this wknd
PS: THE RIDDLER KILLED ON HALLOWEEN WEEKEND IN THE BATMAN! WATCH👇
21/

He then posts THE MOON w/ the caption: "Do u understand what I am trying to tell u?"
He's BEGGING ppl to read into this sh!t more!
The moon represents the FULL MOON coming on Oct 28th
THE DAY OF HIS DEATH😳
In PART 2 we find out it's a BLOOD MOON & ties to sacrifices
22/

so far we have:
WHO: ME!
WHAT: Pickleball
HOW: Drowning
WHY: Attention
WHEN: the night of the full moon Halloween Weekend (10/28)
But we are missing the "WHERE"
And OF COURSE he gives us that too
10/23 in the hot tub "At peace" where he will be found dead 5 days later!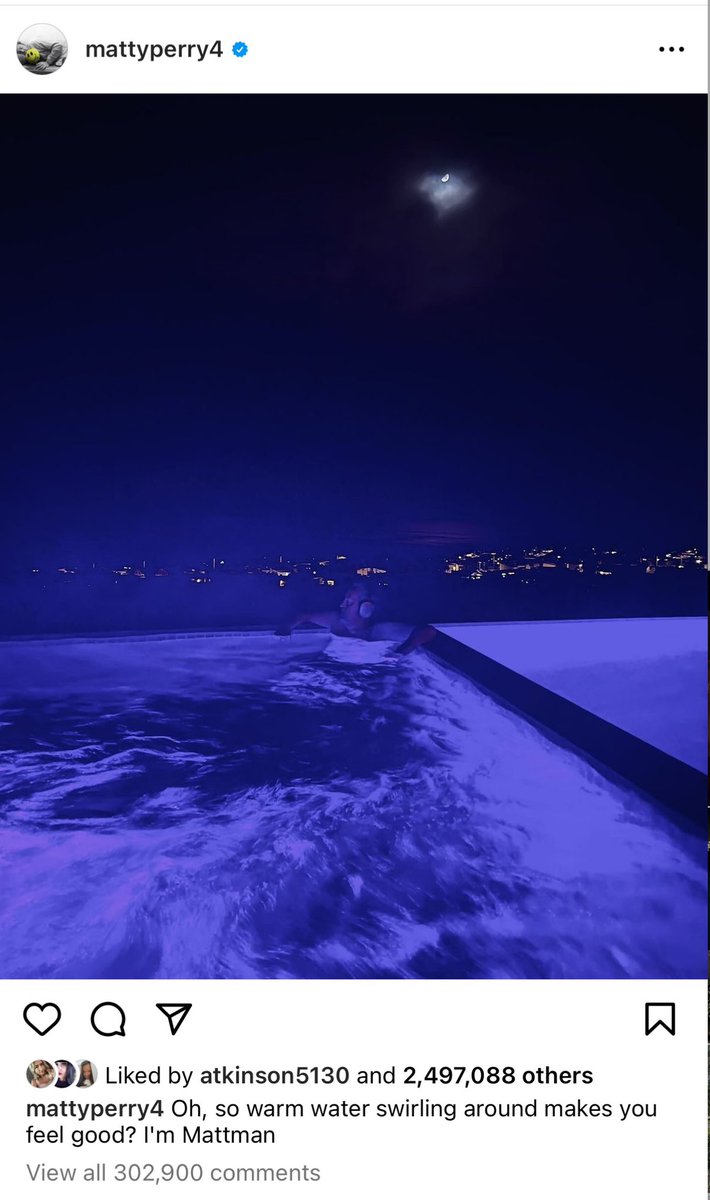 23/

i also think the avatar is a comm.
His profile pic changed to him holding a balloon w/ a smiley face, dead/sleeping
When he dies what happens to his clenched fingers?
They let go & the balloon rises into the sky (heaven) smiling
He's assuring ppl he's accepted his death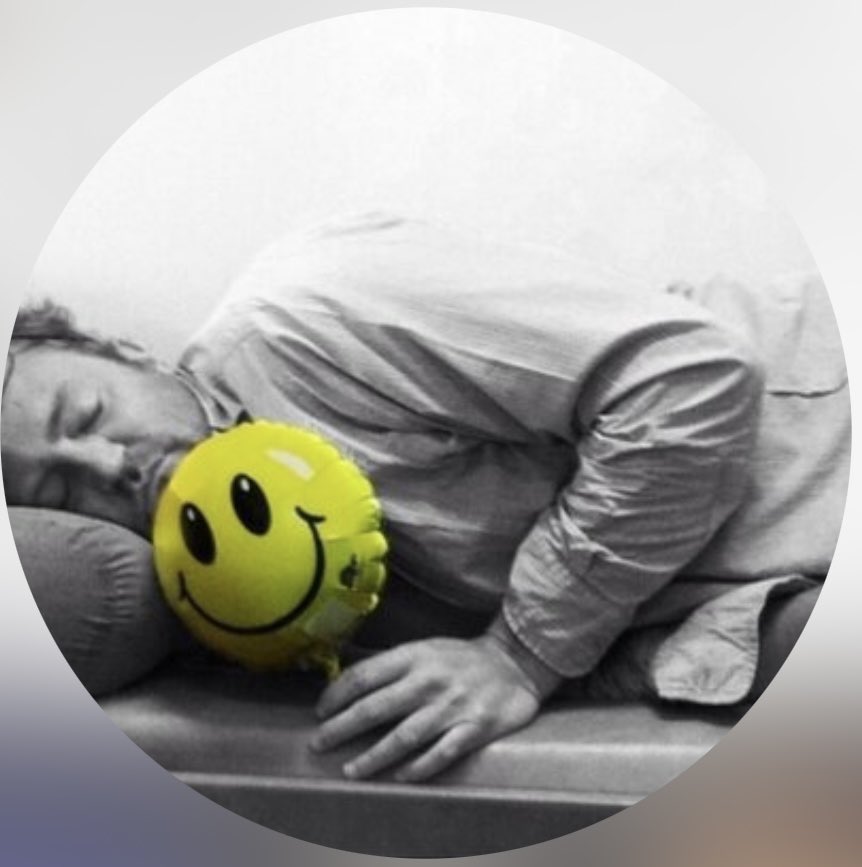 24/

WHO: ME!
WHAT: Pickleball
WHEN: 10/28 🎃🌕
WHERE: Hot tub
WHY: Attention
HOW: Drowning
puzzle complete…
OR IS IT?
In PART 2 we get DARK and go deep into the satanic side, ped0philia, if it was a sacrifice he knew was coming…
AND IF HE'S EVEN DEAD AT ALL!
#StayTuned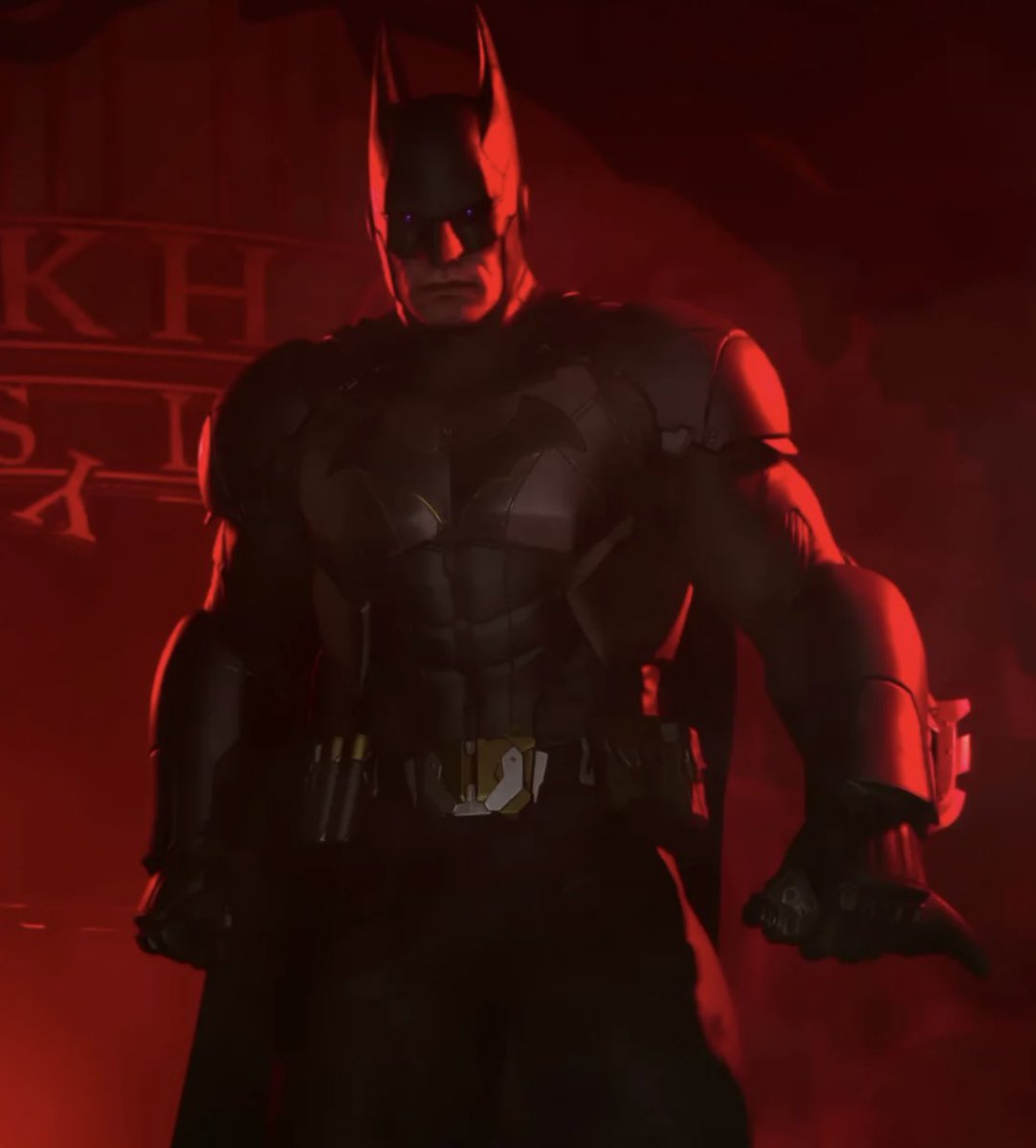 25/

In the meantime share this & follow me @Tommygreturns2 for the next drop coming shortly.
We will be doing a full N0 Mercy Podcast on this next week & for a video version (coming soon) of this thread follow me on:
TikTok:
IG: tiktok.com/@tommygreturns…
instagram.com/tommygreturns2…

26/ AND AS ALWAYS…
I'D LIKE TO GO ON RECORD STATING I'M NOT SU!CIDAL, NEVER HAVE BEEN & NEVER WOULD COMMIT SU!CIDE! ALSO I'VE BACKTESTED IT & IT'S PHYSICALLY IMPOSSIBLE FOR ME TO OVERDOSE ON ANYTHING. I ALSO THINK THE CABAL & ELITES ARE JUST MISUNDERSTOOD…PLEASE DON'T CLINTON ME!

Wow, I told ya it was wild!
What do you think?
Here was my original report, where you'll see a lot matches up, but not all:
Matthew Perry's Death Is Raising A LOT Of Questions…
I don't want to speak ill of the dead or speak too soon after a tragic death, but the news must go on and there is a lot to report here.
As usual, I'm not drawing any conclusions because we don't know much for sure right now, I'm just reporting what I'm seeing and I'll let you decide.
Perhaps there is nothing more to this than a sad case of drinking + hot tubbing which ended in a fatality.
That would be bad enough.
But there's some stuff that you have to admit is just plain strange…
MJ Truth did a good job of bringing a lot of it together:
The drowning death of Mathew Perry keeps getting weirder..

One of the last things he posted was a video of "his hands" placing 3 cranberries on a table.

The lead singer of The Cranberries Dolores O'Riordan died of an accidental drowning in 2018.

Just weird…

That is in… pic.twitter.com/AMkBqM9Yxk

— UltraMJTruth (@MJTruthUltra) October 29, 2023
The drowning death of Mathew Perry keeps getting weirder..

One of the last things he posted was a video of "his hands" placing 3 cranberries on a table.

The lead singer of The Cranberries Dolores O'Riordan died of an accidental drowning in 2018.

Just weird…

That is in combination with the other weird things..

1. His Last photo was in a hot tub (where he ended up drowning)
2. Batman comms
3. The Petty Mason Misspelling by Trump [RR] Perry
Let's break all of that down….
A lot of it comes from his Instagram channel.
Let me show you.
We start with the very last photo he ever posted, which is from 6 days ago and which is him sitting in a hot tub…..presumably the very hot tub he died in.
What are the odds?
View this post on Instagram
But then it gets stranger….
He kept referring to himself as "Mattman" and started posting a bunch of strange Batman pictures all of a sudden:
Like this:
View this post on Instagram
And this:
View this post on Instagram
And this:
View this post on Instagram
And this:
View this post on Instagram
So what's up with Batman?
Well, a lot of people are confused by it and I was too until my friend Mike reminded me of the plot of The Dark Knight Rises, which ends with Batman faking his own death.
Yup!
In "The Dark Knight Rises," the third and final installment of Christopher Nolan's Batman trilogy, the plot around Batman faking his death is a key element of the film's climax and resolution. Here's a breakdown of that plot:

Setting:
The film is set eight years after the events of "The Dark Knight." Batman has disappeared, and Bruce Wayne has become a recluse, with Gotham City believing Batman was responsible for the death of District Attorney Harvey Dent.

The Threat:
Bane, the film's antagonist, arrives in Gotham to fulfill Ra's al Ghul's mission of destroying the city. He exposes the truth about Harvey Dent and uses economic and physical warfare to isolate Gotham from the rest of the world.

Batman's Return:
Bruce Wayne dons the Batman persona once again to combat the threat posed by Bane. However, he is initially defeated and imprisoned by Bane in a faraway pit (a symbolic and literal "fall").

The Climax:
After a period of recovery and introspection, Bruce escapes the prison and returns to Gotham. He rallies the city's police force and some allies to fight against Bane's army. Meanwhile, it's revealed that Miranda Tate, Bruce's ally and love interest, is actually Talia al Ghul, Ra's al Ghul's daughter, who seeks to complete her father's mission.

The Sacrifice:
Batman confronts and defeats Bane. He then learns about a nuclear bomb that Talia has activated, which is set to destroy Gotham. Batman uses his aircraft, "The Bat," to haul the bomb away from the city over the bay, where it detonates safely over the water, seemingly killing Batman in the process.

The Aftermath:
Gotham mourns Batman as a hero. Bruce Wayne is also presumed dead, with his remaining assets divided and Wayne Manor turned into an orphanage. However, in the final scenes, it's revealed that Bruce survived and faked his death. He is seen in a café in Florence by his butler Alfred, living a new life with Selina Kyle (Catwoman). This ending implies that Bruce has finally found peace and left the Batman persona behind, entrusting Gotham's safety to others.

Conclusion:
The plot around Batman faking his death serves as a narrative device to conclude Bruce Wayne's arc. It symbolizes his liberation from the burden of being Batman and his attainment of personal peace, suggesting that the spirit of Batman is bigger than one person and can be a symbol that inspires others to fight for justice.
Why read so much into it?
Perhaps because with each Batman post to Instagram, Perry kept asking us if we "knew what he meant":
It seems like he was definitely trying to tell us the posts weren't random but instead carried a message.
Was this the message?
A hat tip to all the sleuths out there?
I don't know, but I do think it seems clear he wanted to convey a message and not just a sudden obsession with a comic book character…
Then we had this video posted right before his death of 3 Cranberries:
View this post on Instagram
As previously pointed out by MJ Truth, the lead singer of The Cranberries Dolores O'Riordan died of an accidental drowning in 2018.
If this were a book you were reading in school, it would be a textbook lesson on "foreshadowing".
But how does someone foreshadow their own death unless it is planned or faked?
I'm not saying it was either, I'm just saying we have quite a lot of odd circumstances all foreshadowing exactly what happened.
Strange!
What do you think?
Here's more from our prior reporting:
Matthew Perry: "Could I BE Any More Vaccinated?"
I debated whether or not I wanted to cover this….
But ultimately it's not my decision.
Matthew Perry's vaccination status is relevant because HE made it relevant.
Very relevant.
Proudly relevant!
In case you haven't heard, Matthew Perry (of Friends fame) was found dead today at age 54.
Initial reports said he died of drowning in a hot tub (no drugs or alcohol found), but later reports are questioning whether it was cardiac arrest.
Which leads to the relevant part — Perry proudly promoted and sold a "Could I BE Any More Vaccinated" shirt and urged his 7 million followers to get jabbed:
View this post on Instagram
I really hate how this poison jab has divided our world.
I would love to go back to a time when funny people were allowed to just be funny.
Sadly, I didn't make that change….
The world made that change.
People like Matthew Perry promoting this shirt and telling his followers to get jabbed made that change.
I hate it.
I'd love to go back to simpler times.
But people remember what he did and now they're asking questions:
Matthew Perry has died at age 54. The call was for a suspected cardiac arrest. While anything is possible, many will point out that Matthew was a big supporter of the COVID vaccines and even sold shirts saying "Could I BE Any More Vaccinated?" so I think it's fair to ask that it… pic.twitter.com/crBn1UAmec

— Robby Starbuck (@robbystarbuck) October 29, 2023
NOTE: this is not my opinion, but I'm showing you what is trending on X:
Rip Matthew Perry we all know the Covid Shot killed you!

Because you were "proudly vaccinated asf"! pic.twitter.com/Mtcb1bJOSG

— ShoveUrVaXxUpUrMaSk3834 (@TheTruth3834) October 29, 2023
Good guy.
Bad demons.
Tragic end:
Matthew Perry is dead after first responders, called it in as cardiac arrest. He was 54.

He was also fully vaccinated.

When I was a reporter in LA for 10 years, I interviewed him and he was the nicest funniest guy. 🙁 #DiedSuddenly #RIP #MatthewPerry #Friends #rfkjr pic.twitter.com/Lxj3Y0fuJ8

— Erin Elizabeth Health Nut News 🙌 (@unhealthytruth) October 29, 2023
Note how they now say an "apparent drowning":
Matthew Perry dead at 54 of an apparent drowning. First responders called out to the residence for heart attack. Fair to ask if he was vaccinated and boosted. https://t.co/Q6WpGAGvzt

— Fake News Hurts (@FakeNewsHurts) October 29, 2023
Is it still a drowning if you had a cardiac arrest first?
No matter what the cause, it's very sad.
Here was our prior report:
"Friends" Star Dead At Age 54
I saw Matthew Perry was trending tonight on Twitter and I had a very bad feeling.
Sadly, Matthew Perry has reportedly died at age 54 of an apparent drowning.
Tragic:
🚨BREAKING: Matthew Perry has died aged 54 after an apparent drowning, TMZ reports pic.twitter.com/vKXhaWLJqU

— Ian Jaeger (@IanJaeger29) October 29, 2023
Matthew Perry dead at 54 after apparent drowning 🙏 pic.twitter.com/i2IIJyRrxV

— Daily Loud (@DailyLoud) October 29, 2023
'Friends' star Matthew Perry dead at age 54 of apparent drowning: report https://t.co/hy7TL3S9L8 pic.twitter.com/hkClChnPUn

— New York Post (@nypost) October 29, 2023
The NY Post reports there were no drugs found or foul play suspected:
Matthew Perry has died at the age of 54, TMZ has reported.

The beloved "Friends" star was reportedly discovered dead in the jacuzzi of an L.A.-area home on Saturday afternoon.

Law enforcement sources told TMZ that first-responders rushed to the address with the call first reported as a cardiac arrest.

They added that no drugs found at the scene and no foul play is suspected.

Perry rose to fame playing fan-favorite Chandler for 10 seasons on the immensely popular '90s Sitcom "Friends."

He had a long history of drug and alcohol abuse, which he has been candid about since getting sober, opening up about his addictions in a memoir he published last year.

During a publicity tour for the tome last year, the star revealed that he almost died in 2018 due to a gastrointestinal perforation.
On a related note, I'll never understand the debate about Seinfeld vs. Friends….
To me, that's not even the question.
Friends may have been a feel good, comfort show, but it wasn't "funny".
The real debate is Seinfeld vs. Frasier.
Two brilliantly written masterpieces.
But "Smelly Cat"?
Sorry, I just never found it funny, even in the slightest.
Let me put it in basketball terms….
LeBron isn't even in the Top 2 conversation.
It's not LeBron vs. Mike, it's KOBE vs. Mike.
In other words….
Michael Jordan = Seinfeld
Kobe Bryant = Frasier
LeBron = Friends
RIP Matthew Perry.