Former House Speaker Rep. Kevin McCarthy (R-CA) will receive a primary challenger in the upcoming congressional election.
David Giglio, a former congressional candidate, will attempt to unseat McCarthy in California's 20th congressional district.
Giglio announced his campaign for McCarthy's seat Monday.
"Kevin McCarthy has failed the American people," Giglio stated.
"I am excited to announce my campaign to defeat Kevin McCarthy in California's 20th Congressional District. After years of being sold out to special interests, the people of the Central Valley deserve an America First Republican fighting for them in Washington and working alongside President Donald Trump to WAGE WAR against the corrupt uniparty!" he added.
Read the full release:
🚨OFFICIAL: I'M RUNNING TO DEFEAT KEVIN MCCARTHY 🚨

Help me WIN: https://t.co/7aTQEDROGj pic.twitter.com/POOXJQgeVb

— David Giglio (@DavidGiglioCA) October 30, 2023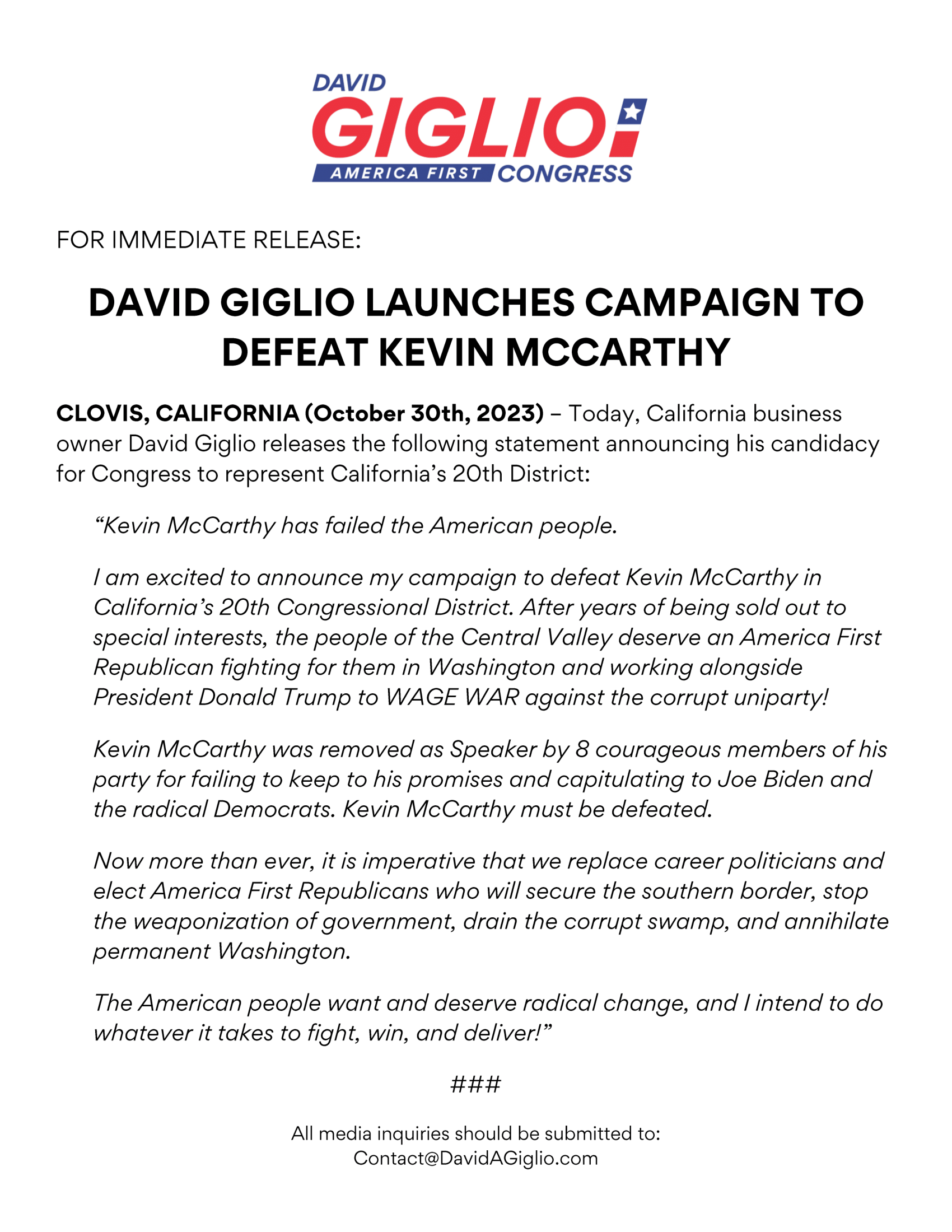 The Hill reports:
Giglio also took direct aim at McCarthy, who was ousted from his post Oct. 3, when eight Republicans joined Democrats in favor of a motion to vacate the chair of Speaker. The rebel group of Republicans was angry about McCarthy's last-minute, bipartisan deal to keep the government funded.

"Kevin McCarthy FAILED the American people by not keeping his promises and capitulating to the corrupt Biden Regime and the radical Democrats," Giglio said on the website.

"Americans are fed up with the status quo and hungry for change. I intend to do whatever it takes to fight, win, and deliver it for them!" he said on the campaign's donation page. "Help me DEFEAT the Swamp by making a generous donation below and together we will send an America First fighter to Washington!"

The Hill reached out to Giglio for comment. The Federal Election Commission website showed Giglio filed the necessary paperwork to run for the district Sunday.
Investigative reporter Laura Loomer said she will interview David Giglio and air the conversation on her Rumble channel Tuesday at 8:30 p.m. EST.
As I was first to report last night, @SpeakerMcCarthy is officially being primaried by MAGA Republican @DavidGiglioCA.

David Giglio has agreed to give me the Exclusive video interview about his primary challenge of former House Speaker Kevin McCarthy!

Catch it on… https://t.co/9BuaQvuogX

— Laura Loomer (@LauraLoomer) October 30, 2023
"You won't want to miss this!" Giglio commented.
You won't want to miss this! Going to be 🔥. https://t.co/0W1qs3ulz1

— David Giglio (@DavidGiglioCA) October 30, 2023
California Republican David Giglio Announces Bid For McCarthy's Seat After Speaker Ouster https://t.co/0gXoxyaiCM

— Daily Caller (@DailyCaller) October 30, 2023
David Giglio's website states:
Originally from Connecticut, David attended the University of Scranton, where he starred on the baseball team and graduated magna cum laude with a degree in History and Political Science. Following his tenure at Scranton, David earned a master's degree in teaching and taught high school history.

A dream career opportunity led David to support his wife's decision in their move to Central California's San Joaquin Valley.

David is now the proud owner of CaliCards & More in Clovis, where he is responsible for the buying/selling of sports cards and memorabilia through secure online and in-person venues.

​David watched as elected leaders jumped from office to office, breaking promises made to constituents, and failing to lead on key issues.

David believes in putting America first.

David vows that when he goes to Washington, he will not kowtow to Party leaders, special interests, or corporate elites, but fight alongside President Donald J. Trump as wages war against the uniparty, dismantles the Deep State, and Makes America Great Again.