A federal judge late Thursday blocked the Biden administration from implementing a policy that would release illegal migrants into the country without court dates.
The ruling comes just hours before the lifting of Title 42.
BREAKING: Federal judge blocks Biden administration from implementing a policy to release migrants without court dates.

The ruling comes just hours before the lifting of Title 42.

— DailyNoah.com (@DailyNoahNews) May 12, 2023
WLTR noted Wednesday on the Biden administration reportedly planning to release migrants into the country "without court dates or the ability to track them."
Thousands of Migrants Reportedly to Be Released Into the Country by Biden Administration
According to Fox News, Judge T. Kent Wetherell II placed a two-week restraining order on the policy that would release migrants on "parole with conditions."
The state of Florida filed an emergency motion for a temporary restraining order (TRO).
"DHS is enjoined from implementing or enforcing the parole policy contained in the May 10, 2023, Memorandum from U.S. Border Patrol Chief Raul Ortiz, titled "Policy on Parole with Conditions with Limited Circumstances Prior to Issuance of a Charging Document (Parole with Conditions)," the order states.
"This TRO will take effect at 11:59 p.m. eastern time to correspond with the expiration of the Title 42 Order and to give Defendants an opportunity to seek an emergency stay from a higher court."
"This TRO will expire 14 days from the date of this Order," the order adds.
Breaking: Trump appointee grants Florida's emergency request halting the Biden administration's post-Title 42 parole policy from going into effect. Ruling goes into effect at 11:59p. https://t.co/5TXfq6OVaX pic.twitter.com/tzpsN40t8Y

— Chris Geidner (@chrisgeidner) May 12, 2023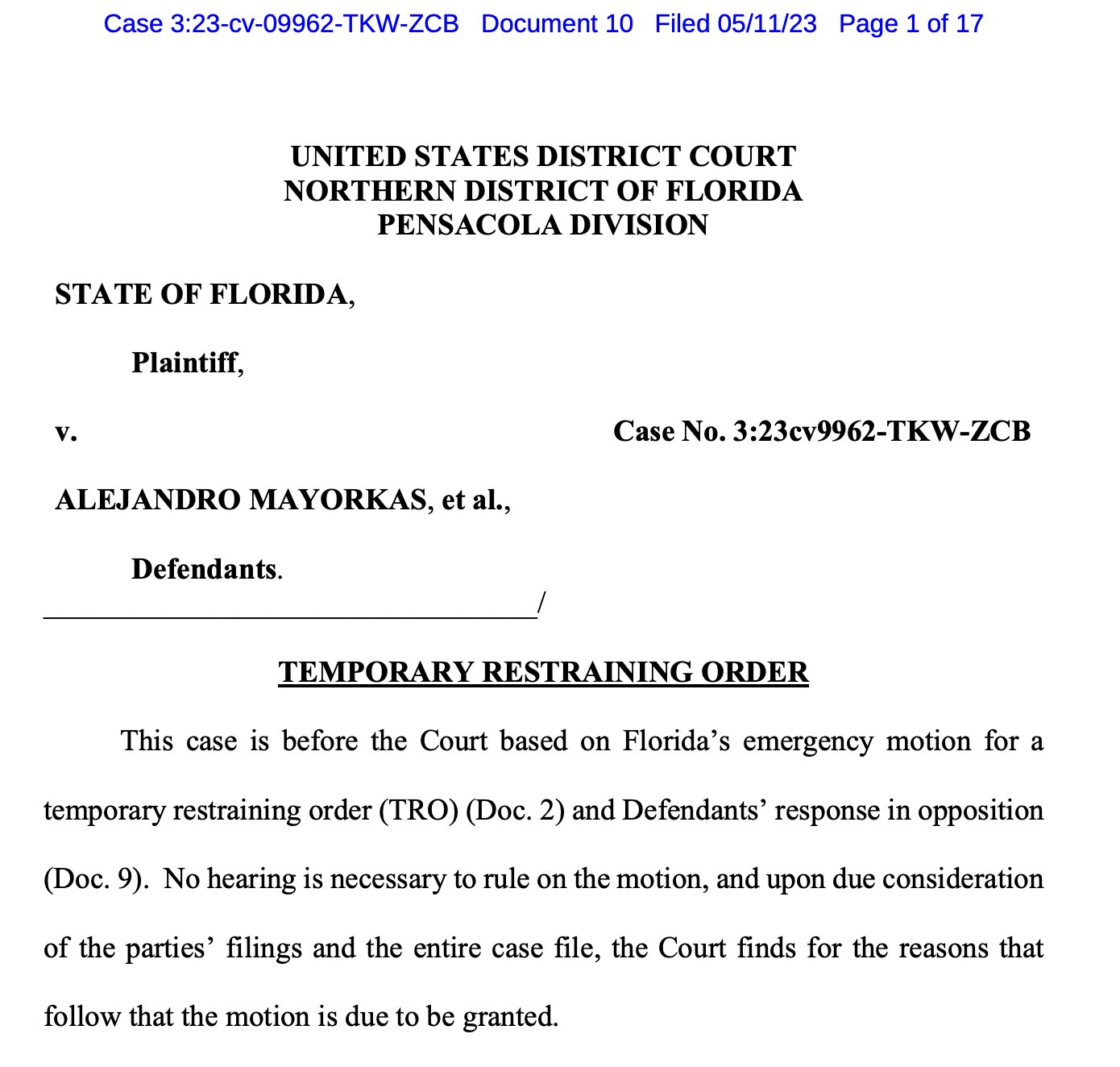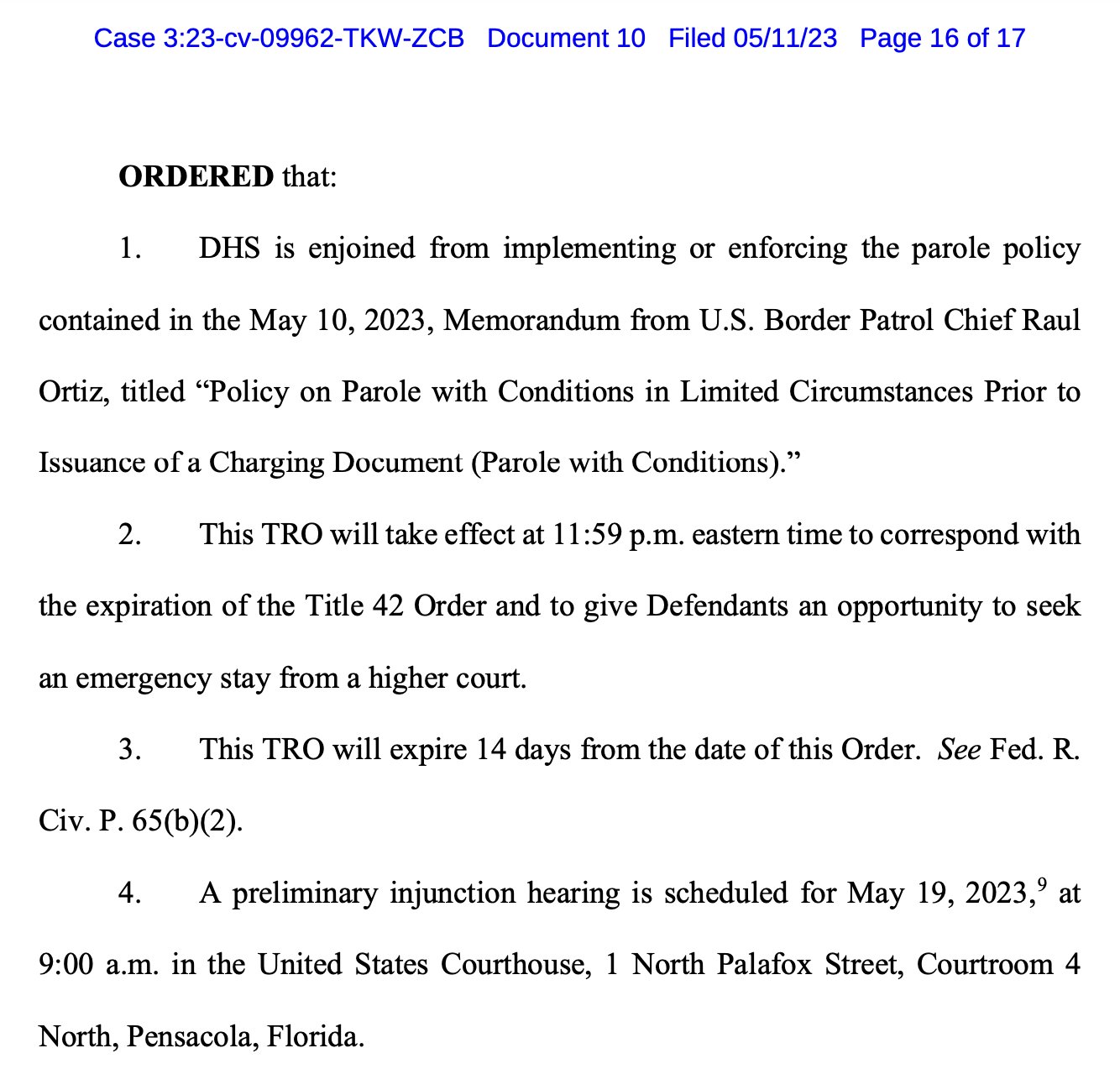 Fox News reported:
The policy was outlined in a Border Patrol memo this week, which says that migrants can be allowed into the country on parole — a process typically reserved for "urgent humanitarian reasons or significant public benefit" — if Customs and Border Protection (CBP) faces overcrowding. The memo calls the practice "parole with conditions" as migrants are required to make an appointment with Immigration and Customs Enforcement (ICE) or request a Notice to Appear by mail.

Under a parole release, migrants are rapidly released into the country, do not get an alien registration number and do not receive a court date.

The use of parole is being authorized if a sector capacity goes above 125%, if agents apprehend 7,000 a day over 72 hours or if average time in custody goes above 60 hours. Agents have been encountering over 10,000 migrants a day since Monday, and there are no signs of that slowing down with the looming end of Title 42, which is expected to bring an even bigger wave with it.

Title 42 has been used since March 2020 by both the Trump and Biden administrations to return millions of migrants rapidly at the southern border due to COVID-19. With the end of the order coinciding with the end of the COVID-19 national emergency on Thursday evening, migrants have flocked the border in the hope that they will be more likely to be admitted to the country.

"For the past 7 days, USBP has averaged over 8,750 encounters per day. This is over double the average daily encounters of 4,284 in May of 2019, the highest month of the 2019 surge. Even with significant personnel along the SWB, a significant detention capacity, and interagency resources supporting the effort, this situation requires urgent action," the memo stated.
Florida Attorney General Ashley Moody sued the Biden administration upon learning about the policy.
🚨BREAKING NEWS🚨

As the U.S. prepares for the expiration of Title 42, a federal judge responds to AG Moody's legal action DEMANDING @JoeBiden explain—by 4 PM TODAY—how his new immigration policy doesn't violate the previous court order secured by FL.https://t.co/vTzR22Sukn

— AG Ashley Moody (@AGAshleyMoody) May 11, 2023
Per Fox News:
Florida Attorney General Ashley Moody is seeking a temporary restraining order to stop the mass release of migrants into the U.S. coinciding with the end of the Title 42 public health order — arguing that it is "materially identical" to a policy that was blocked by a federal judge earlier this year.

Moody, in a filing in the U.S. District Court Northern District of Florida, is arguing that a plan by the Department of Homeland Security to release migrants onto the streets if Customs and Border Protection (CBP) and NGOs are overcapacity is unlawful as it is too similar to the "Parole + ATD" policy enjoined by a federal judge in March.
Read the full ruling from United States District Judge T. Kent Wetherell II HERE.